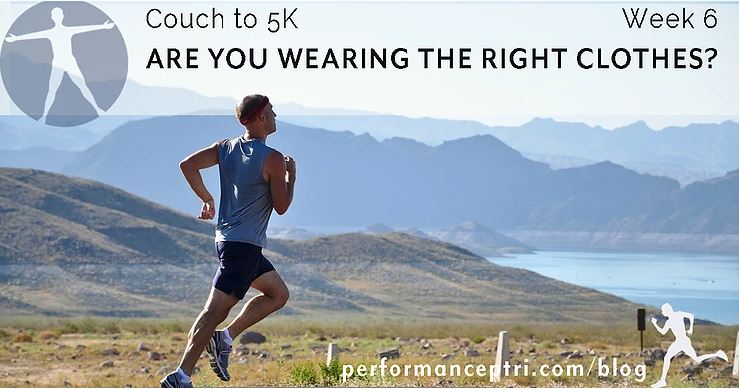 by Dr. Brian Hay, DPT, MS, OCS | Performance Physical Therapy
Running can leave you hot and sweaty, so if you decide to take your workout outside this summer, you're going to need the proper fabrics to help keep your body cool.
Tops
When it comes to tops, short sleeves or tank tops are the way to go, but make sure you are getting the correct fabrics. The best materials to get are ones that are breathable; stretchy, so the fabric moves with you, and sweat-wicking so all the moister is pulled to the exterior of the shirt.
Nylon– Nylon is a very popular fabric for running gear and has all the features you need to stay comfortable and cool on your run.
Polypropylene– Polypropylene is water resistant so no matter how sweaty you get your shirt will always feel dry.
Spandex- spandex is very flexible and great for keeping up with your body's movement.
Wool- Surprisingly enough, wool can be good for running in the summer. It is temperature regulating, breathable, sweat-wicking, lightweight, and anti-bacterial. Most workout clothes that have wool, will also be made with synthetic fibers, such as spandex, to help create a more movable shape.
Polyester– Polyester is plastic based so it is lightweight, breathable, non-absorbent and it repels UV rays. Unfortunately, due to this not being a natural fiber, this material may have a pretty ripe odor by the time you get back from your run.
Cotton- Although very popular, comfortable, and great to wear for bed, cotton is one of the worst fabrics you can wear when it comes to running.
Sports Bra Fitting
When it comes to women runners, a proper sports bra can be an important component to your running gear. To get an expert fitter to help you find the best sports bra, check out Rhode Runner's Sports Bra Fitter.
Bottoms
When you're running in the summer I bet you prefer to wear the least amount of clothes possible, so try sticking with some shorts. Be sure to keep the same shirt fabrics in mind when purchasing your shorts. Unless you want to cause chafing, stay away from cotton!
Sunscreen and a Hat
Those UV rays can be harsh, so remember to protect your skin. Get yourself a hat to help keep the sun off your face, and use sunscreen every time you go out. All that vitamin D can be great for you, but the sun can have many harmful effects, so keep your skin safe by investing in a nice sports sunscreen.
https://www.performanceptri.com/blog/couch-to-5k-week-6-are-you-wearing-proper-running-clothes